Let's face it, nobody would rather sit in a classroom than at the beach. But summer programs are growing, particularly considering President Obama's commitment to investing in summer learning with the new Summer Opportunity Project. School leaders across the country are changing the structure of summer programs to meet a wide range of student needs. While summer school used to be offered almost solely for struggling students to recover lost credits, districts are now implementing innovative ways of expanding educational opportunities for all students. Learn how school leaders are designing summer programs in districts with diverse needs.
Digital Personalized Learning Provides Flexibility for Summer Programs
For example, at Cuyahoga Falls City School District in Ohio, students who want to earn credit toward early graduation, create a free period in the next year's schedule for an elective, or earn early dismissal can participate in a five-week summer program. While most students are enrolled in original credit courses, a small group takes courses for credit recovery to get back on track for on-time graduation.
Personalized digital curriculum enables all Cuyahoga Falls students—regardless of their level of learning—to complete course work from home, at their own pace. (All exams are administered on-site.) Teachers are available onsite on Mondays, Wednesdays, and Fridays from 8 AM to 12 PM to proctor assessments and help students who need face-to-face instruction. This flexible, blended model is perfect for anytime/anywhere summer learning—even the beach!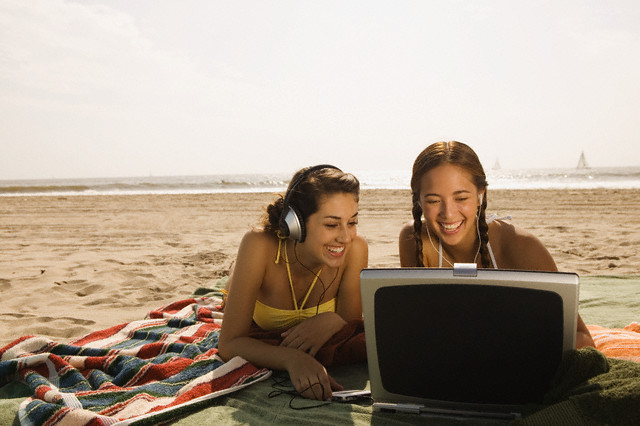 12 Features of Best-of-Breed Digital Curriculum
High quality digital curriculum enables cost-effective, flexible programs that offer personalized learning options tailored to each student's needs. The challenge is that not all online learning programs are created equally. Educators would do well to refer to the national standards for online courses. In addition, below are features that a quality digital curriculum should offer:
Accessibility. Activities should be designed to provide appropriate access to all students. The curriculum should be developed with universal design principles in mind, and conform to the U.S. Section 504 and Section 508 provisions for electronic and information technology as well as the W3C's Web Content Accessibility Guidelines (WCAG 2.0).
Access. Infrastructure should be accessible 24x7 and available on and off campus with students using their own devices.
Active learning. Students participate in lessons and "learn by doing" to deepen learning and engagement.
Purposeful use of varied media. Students should have many ways to explore and understand new concepts. They should participate in multi-modal representation of concepts that allows them to read, listen, inquire, manipulate, explore, and discuss.
Scaffolding. Stepped-out problem solving guides contain explicit strategies that enable students at all levels to be independent, confident learners. Scaffolds support students as they master academic processes.
Study guides. Study tools should help improve study skills and support more than simple note taking. They should encourage students to graphically organize information, guiding students to capture key concepts from instruction.
Check for understanding self-assessment. The "learn by doing" instructional approach embeds opportunities for students to check their understanding through frequent formative interactive activities. These low-stakes or no-stakes assessments are designed to make the students continuously aware of their progress in class and mastery of the content.
Plenty of formative feedback. Program features designed to build confidence and comprehension may include modeled responses, targeted feedback, and hints that support students' understanding of concepts.
Relevant, real-world examples. Mixed-media real-world examples should be used in text as well as a variety of video clips, slide shows, and other imagery are used in conjunction with audio features.
Supports successful completion of activities with audio and visual cues. When students are asked to read, write, calculate, or perform tasks, they should be supported in successful completion through both audio and visual cues that guide them clearly through complex tasks and processes.
Engages students in rigorous standards-based curriculum that fully prepares them for assessments.The overall goal of any digital curriculum should be to present standards-rich instruction, presented in clear and concise language that's accessible to all students.
Real-time data. Both students and teachers benefit from real-time data for assessment of student comprehension that provides actionable feedback that can be used to increase learning, or to develop personalized learning plans.
Learn more Best Practices for Designing Summer Programs in Districts with Diverse Needs. Download our free white paper now!
Michelle Rutherford, Director of Implementation
Michelle leads a team of implementation success managers who work with districts across the nation to maximize student outcomes. Michelle is focused on identifying and sharing ideal implementation models and best practices for virtual and blended learning programs. She also designs services to help district and school administrators plan and evaluate their programs, and to support the development of specific skills and strategies for teaching with a digital curriculum. Prior to joining Apex Learning, Michelle served as an Instructional Technology Interventionist and Blended Learning program coordinator for Dorchester School District Two in South Carolina. Michelle began her career in education as a biology teacher in 2001. She holds an undergraduate degree in secondary science education from the University of North Florida, and a master's degree in educational technology from Lesley University. She has also attained National Board Certification (AYA Biology). Michelle has presented blended learning models and best practices at numerous district, state, and national conferences.